M. Michael Meller
Behind The Stall Door With: Robin De Ponthual
You don't have to guess which horse is the top dog when you walk down E2 Showjumping's barn aisle in Wellington, Fla.—it's the one with a personal television in the corner of his stall.
Robin De Ponthual has earned his luxurious digs. The horse has been competing at the international level with rider Peter Lutz for the past three years. The pair captured their first grand prix win together in 2015 at the $35,000 Grand Prix of Princeton (N.J.). Later that year they followed it up with a victory in the $100,000 Longines FEI Las Vegas World Cup qualifier. Lutz and Robin competed at the Longines FEI World Cup Jumping Final in Gothenburg, Sweden, in 2016, and a few months after they won the $375,000 CP Grand Prix at Spruce Meadows (Alberta).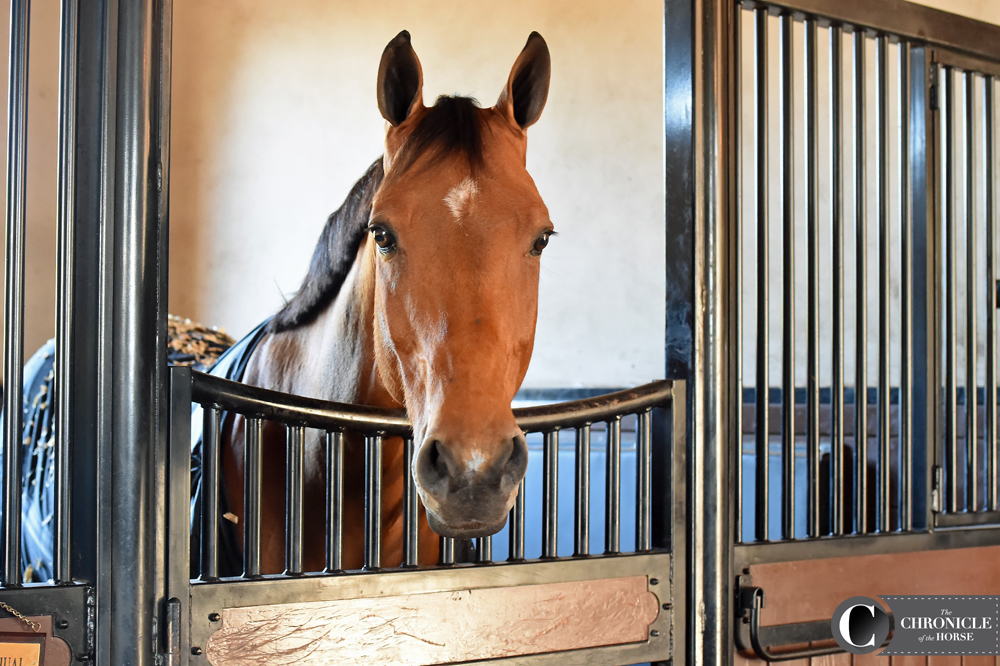 That face! Photo by Ann Glavan
This year the gelding has made six FEI competition appearances, finishing ninth in the $380,000 Fidelity Investments Grand Prix in Wellington, Fla., on March 23. This week, "Robin" and Lutz are in Mexico as part of the U.S. team for the FEI Nations Cup in Coapexpan.
The spunky 12-year-old Selle Fracais gelding (Elf D'Or—Io De La Grange, Calypso D'Herbiers) has no qualms about voicing his opinions, whether that's in the barn, out in the paddock or in the show ring. Robin rules the roost.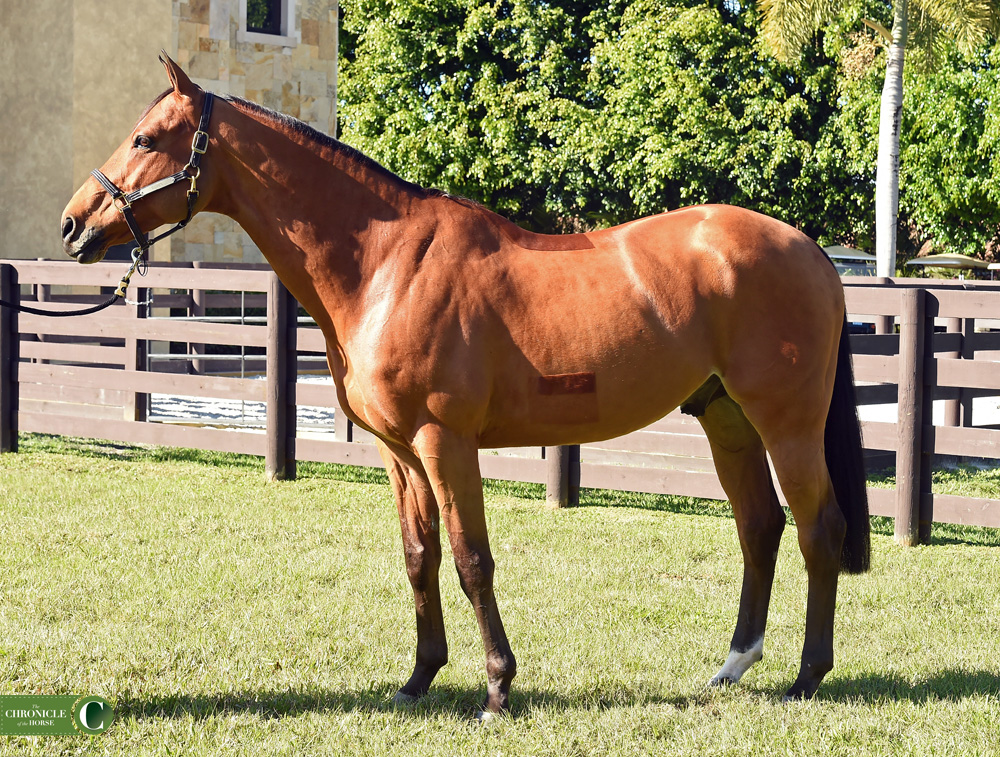 Photo by Ann Glavan
"He has a lot of personality," Lutz said. "He's very outgoing and really smart."
"I know this horse really well, I know him better than any other horse," said Chuy Escalera, Robin's groom. "He's my favorite, not just because he's a really good horse, because of his personality."
Get to know Robin De Ponthual a bit better as we go behind the stall door with him:
• If Robin had a favorite Disney movie, it would probably be Frozen. Robin gets his legs iced before and after he competes with Lutz.
"He loves ice," Escalera said. "You fill the muck tub with ice and he doesn't move. Normally when I'm getting him ready for the show, I put him in the ice while I braid him."
Other treatments Robin enjoys on a spa day include time on the TheraPlate and sessions with his magnet pulse blanket. He also wears a Back On Track sheet in his stall.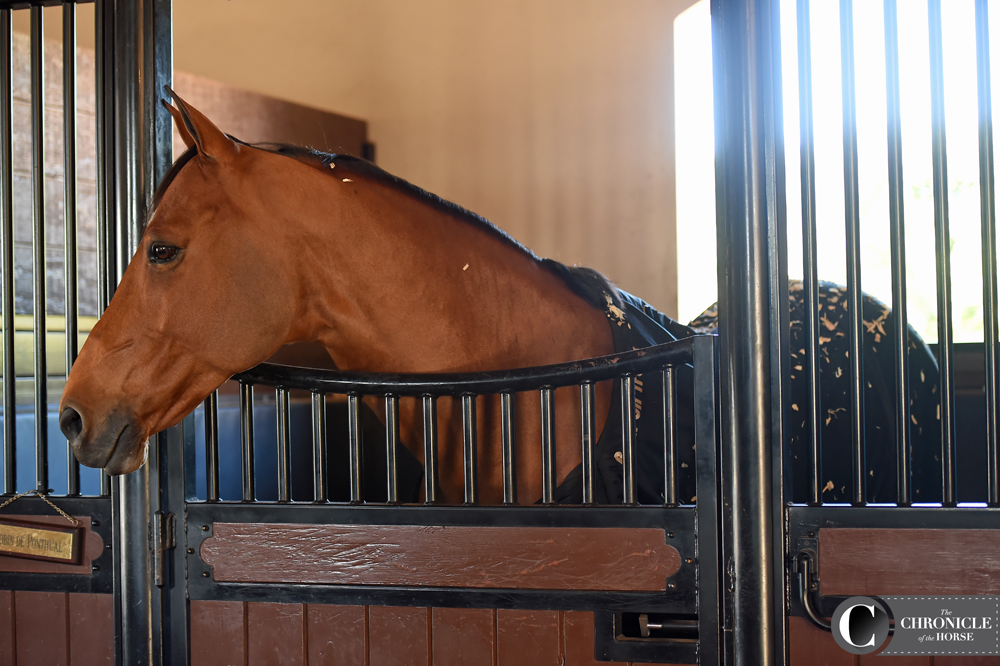 Robin hanging out in his Back On Track sheet. Photo by Ann Glavan
• When it comes to grazing, Robin eats to the beat of his own drum. If his paddock were a peanut butter and jelly sandwich, he only eats the crusts.
"He doesn't want the grass over there he just wants this," Escalera said, pointing to the grass under the fence boards Robin is tearing away at. "When he's loose he does the same thing."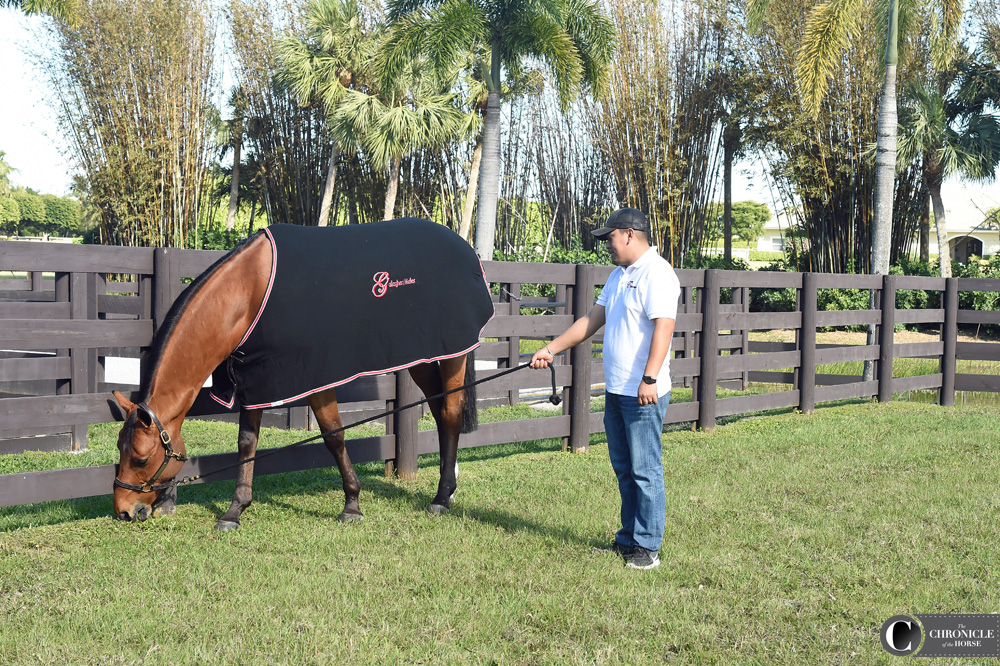 Eating around the edges. Photo by Ann Glavan
• Getting Robin out to his paddock for his crusts-only grazing can be quite the undertaking.
"We need a chain to turn him out sometimes, like when he's been at a show for a week and is getting turned out again for the first time," Escalera said. "The first day after we get back from a horse show he's a disaster in the paddock running."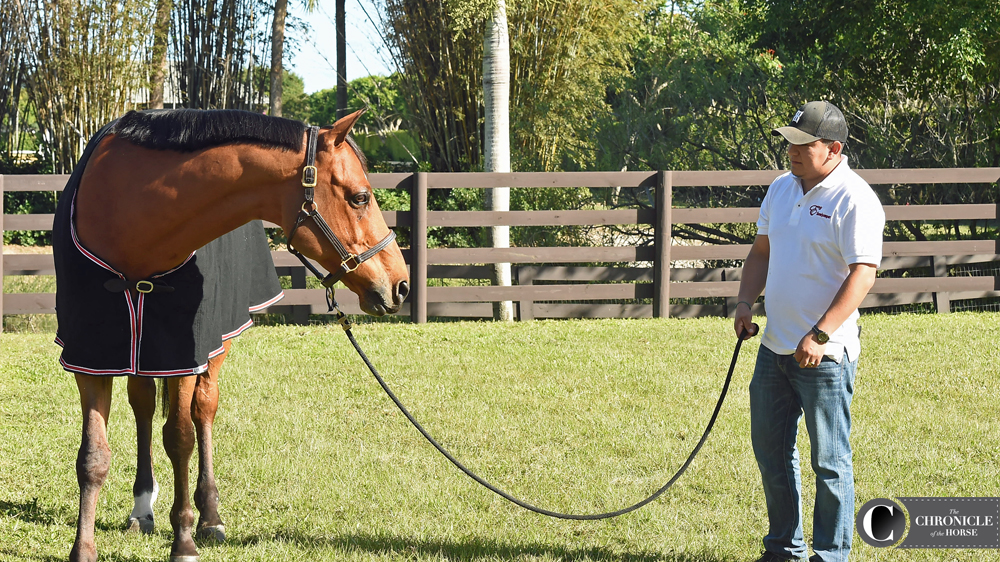 Robin in a more mellow moment. Photo by Ann Glavan
• When he's at horse shows, Robin trades his turn-out time for a few spins on the lunge line, adding in some airs above ground.
"He's actually very good on the lunge line—he just bucks—but when he bucks it's huge," Escalera said. "On the line and when he's being ridden. If he's jumping or schooling and he hits the rail he really bucks."
• Robin has a bit of a princess and the pea situation going on in his stall—the horse spends his days hock deep in fluffy clean shavings. Escalera estimates there are about 20 bags of shavings in the stall at any given time.
• And let's not forget the TV situation in the stall—Robin might be the only horse with the perfect set-up to kick back in his shavings bed and binge watch Netflix on his flat screen mounted above the stall, but believe it or not the TV actually serves a very practical purpose.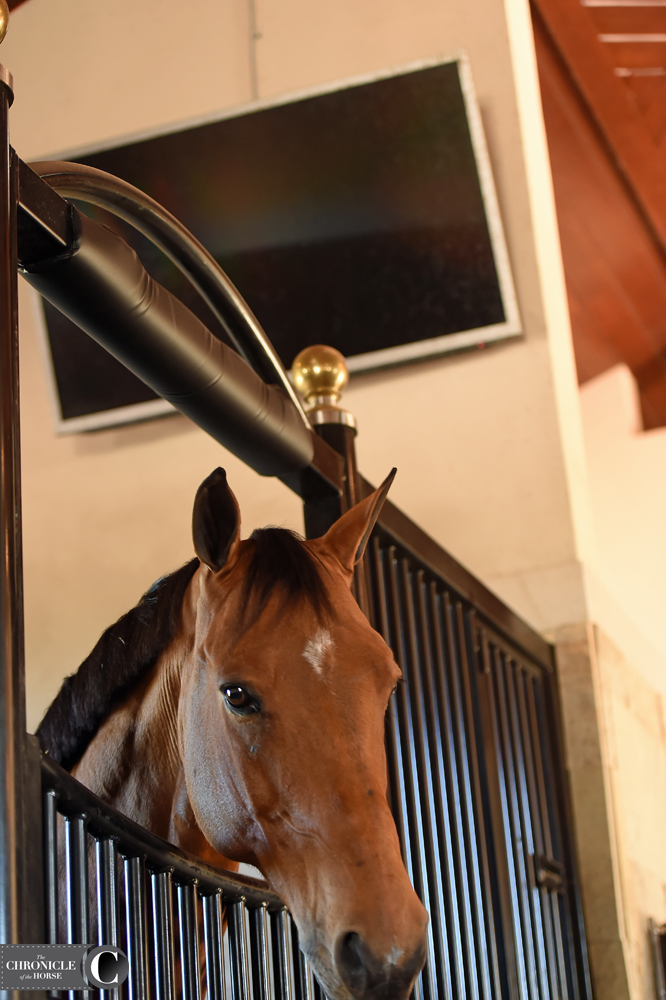 Robin's own personal television! Photo by Ann Glavan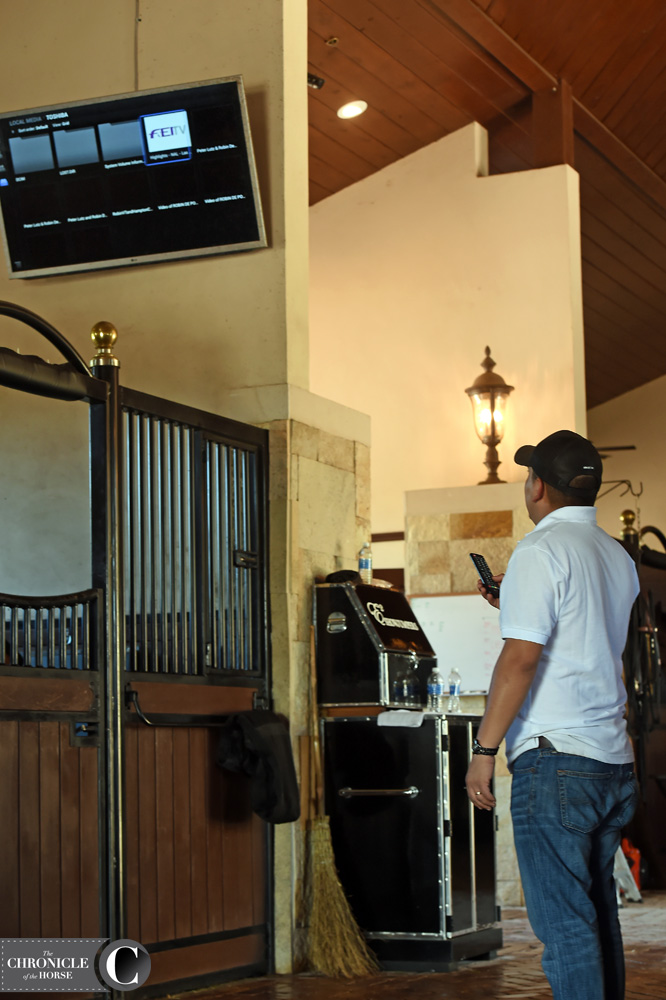 Chuy Escalera uses the remote to find Robin a round to watch. Photo by Ann Glavan
"When we first got him he didn't like the jumbotron," Michael Maller, one of Robin's owners, explained. "So we got this and we play his favorite rounds on the TV."
The system is connected to the internet, so through live streaming, Robin can watch both replays of his victories and live streams of current classes. How's that for studying up on the competition?
• When Robin does well in the show ring, he puts on a show strutting out with all kinds of swagger.
"When he comes out of the ring and he's had a clear round he's excited, he knows," Escalera said. "And if there's no people, no crowd, he's quiet, but if there's people he's like, 'Oh I did it well.' It can be a challenge to walk him back to the stall from the ring—he's rearing up and trying to kick other horses, biting people."
Not to worry though, Robin wears a red ribbon in his tail when he competes, so fellow horses are at least warned that there is a rambunctious gelding in their midst.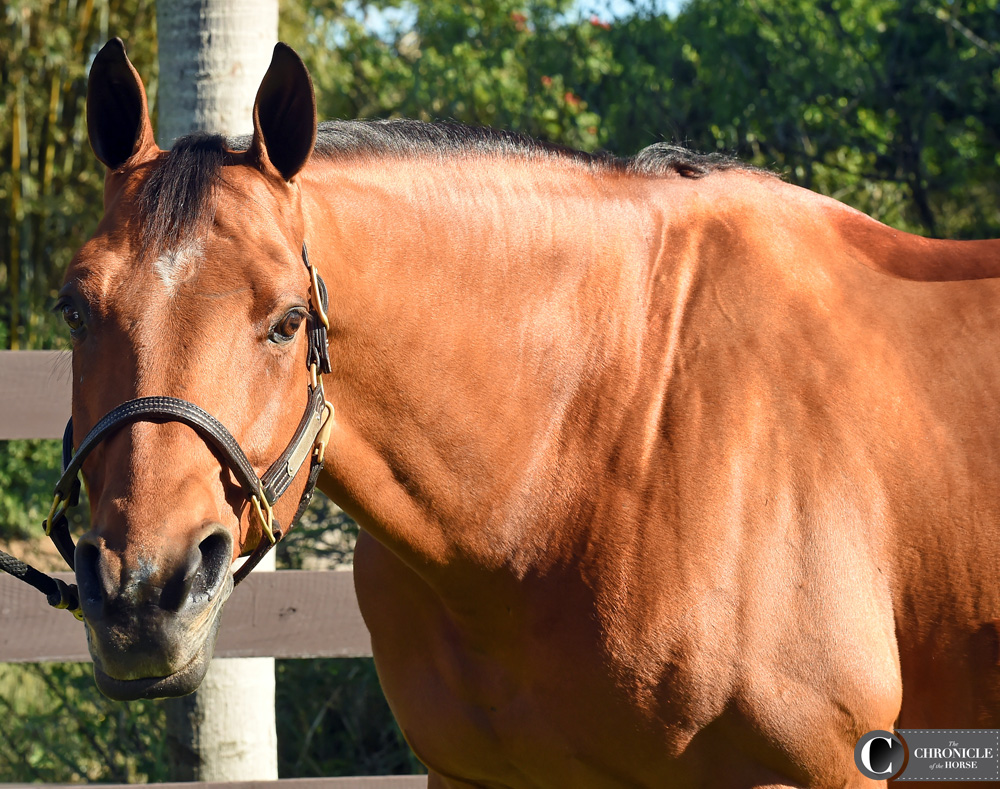 He's not shy! Photo by Ann Glavan
• Robin is no cuddly bug of a horse—he can be a perfect gentlemen, but he also knows what he wants and isn't afraid to ask for it.
"If he doesn't like what you're doing, he pins his ears back," Escalera said. "He has a character, he has an opinion."
"He's really a very sweet horse, he's just a sweet with his own way of doing things," Maller said. "He demands attention, he tells people 'Hey take care of me.' He knows he's in charge."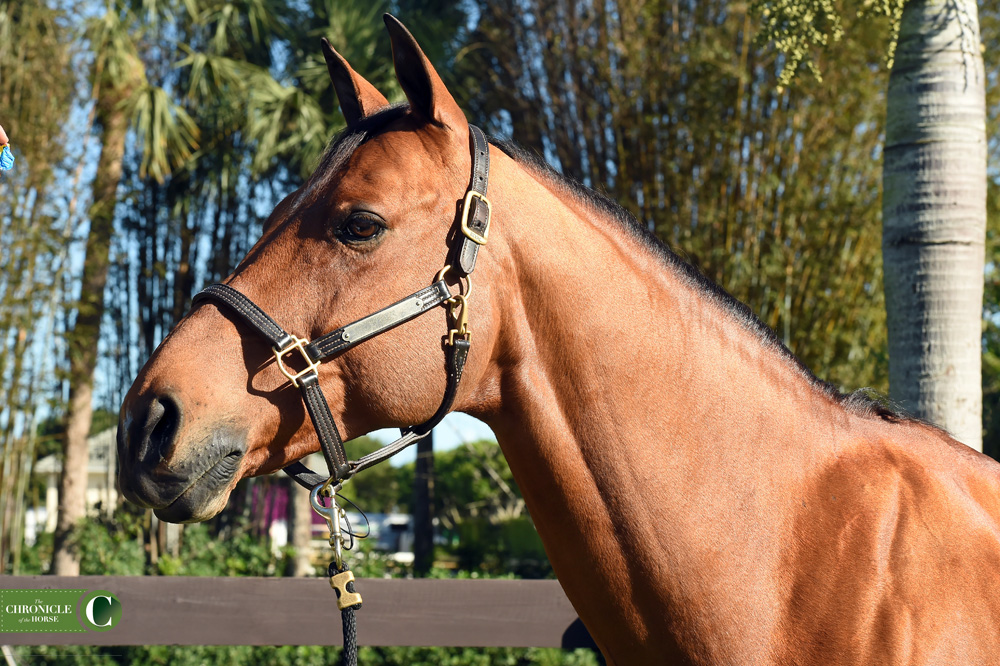 Photo by Ann Glavan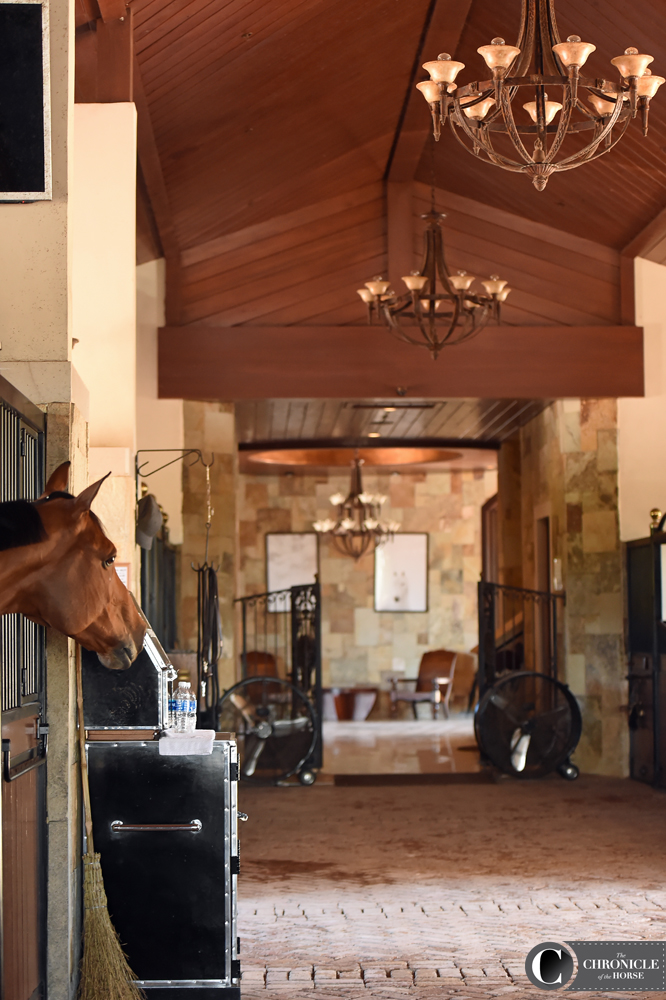 Robin's home at E2 Showjumping in Wellington, Fla. Photo by Ann Glavan